Why you should  take the Pharmacy Technician diploma program at Algonquin Careers Academy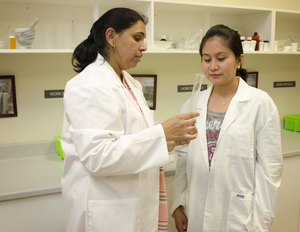 The Pharmacy Technician diploma program at Algonquin Careers Academy is accredited by the CCAPP (Canadian Council for Accreditation of Pharmacy Programs) at both the Ottawa and the Mississauga Campuses. Pharmacy Tech at ACA Ottawa is the only accredited program in Ottawa. The profession of Pharmacy Technician has evolved rapidly over the past decade and we have been updating our students with the new regulations and providing information to former and current students helping them to be professionally motivated and informed.
The program is well supported by an "Academic Committee" comprised of expert healthcare professionals from various pharmacy settings and knowledgeable instructors who are active in the industry. The students are prepped for the Registration-Jurisprudence and PEBC exams that help them qualify for the Entry to Practice as a Registered Pharmacy Technician (RPhT).
Our students are tested and trained for forty-nine weeks, which includes eight weeks on co-op placements. These placements are provided at both hospital and community settings, helping students to gain the knowledge and skills required for interpreting prescriptions/doctor's orders, product preparation and drug dispensing. The students also learn both Federal and Provincial Acts and get a solid understanding of the Code of Ethics - the rules set by the regulating and registering body for the profession of pharmacy in Ontario, the Ontario College of Pharmacists (OCP). Our students realize the importance of the National Association of Pharmacy Regulatory Authorities (NAPRA) Standards of Practice to maintain competence and to demonstrate professionalism and apply ethical principles in their daily work.
Opportunities like participating in conferences, online collaboration with other healthcare professionals, field trips to hospitals and other academic institutions build the overall awareness of our students. 
Our program stresses practical hands-on training along with the theoretical learning to instill a level of confidence in our students that allows them to face, and succeed, in the real world!
To find out more, follow the link to: https://www.algonquinacademy.com/programs/healthcare/pharmtech