Congratulations Sarah for being chosen as our Mississauga Grad of the Quarter - Summer 2016!
A Bit about Sarah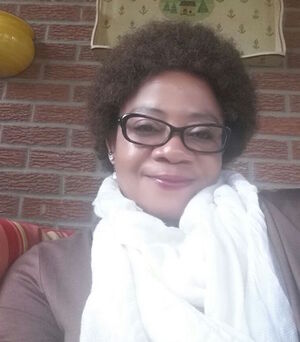 Sarah graduated from the PSW evening program in 2013. She was hired by Cawthra Gardens, where she had been on placement, immediately after she graduated. Sarah worked there until October 2015 and then was hired by We Care Home Health. Sarah takes care of seniors in their homes and helps them with their grooming, dressing, and cooking and, as well, provides them with good company.
Sarah is from Nigeria and has a diploma from there. She loves the country where she was born but decided to come to Canada about 15 years ago. She has worked at various jobs and was working at Winners when she felt she wanted to try something different. Sarah decided to go back to school to get a Canadian diploma.
Why she chose ACA?
Sarah just had an intuition about it. She knows there are other cheaper schools out there but Algonquin was special – she felt she was in the right place and didn't look any further. The instructors at ACA are great and the school is accessible.
What did she find difficult?
Sarah had not planned to go back to school and it took her a while to make the decision. She pushed herself to do it. Sarah found all of it difficult to start with because she had been out of school for such a long time. However, along the way she picked it up and won Student of the Month twice as well as Academic Achievement awards and Perfect Attendance. At the end, she couldn't believe she had done it.
Best thing about her job as a PSW
Sarah loves it when she looks at her clients and their faces and eyes tell her how much they appreciate the care she has given them. She knows how happy they are and when they thank her for caring for them it makes her feel so good. All of her clients love her like they love their children and she takes care of them as she would take care of her own parents.
Words of Wisdom
Two years after Sarah graduated from ACA, she thought she would go back to the school to say hello. She asked if she could speak to the PSW class to encourage the students. She spoke to the whole class and told them her story. She told them not to get discouraged and that they too could be successful. When she first went back to school, Sarah had some people asking her why would she go into PSW, why go back to school? She went ahead and did it anyway, enjoyed it and is glad she did. She told the students not to listen to people trying to discourage them - don't be a quitter, do it for yourself and when you are done you will say "thank God I did it"! When you set your mind to it, just go do it.  Sarah has spoken twice to different classes – she went in her work uniform, told them about the car she was able to buy because of her job and inspired them to keep at it. Even after graduating, Sarah is supportive of ACA students!
Extra Info
Further congratulations to Sarah for her marriage – a lot of great things are happening in her life!
From Rebecca
"Sarah was an evening PSW – she was a hard worker, great student and has been very successful after graduation."
Mary Soye, the blogger, is a Director at Algonquin Careers Academy with responsibility for Social Media, Human Resources and Employment Counselling.