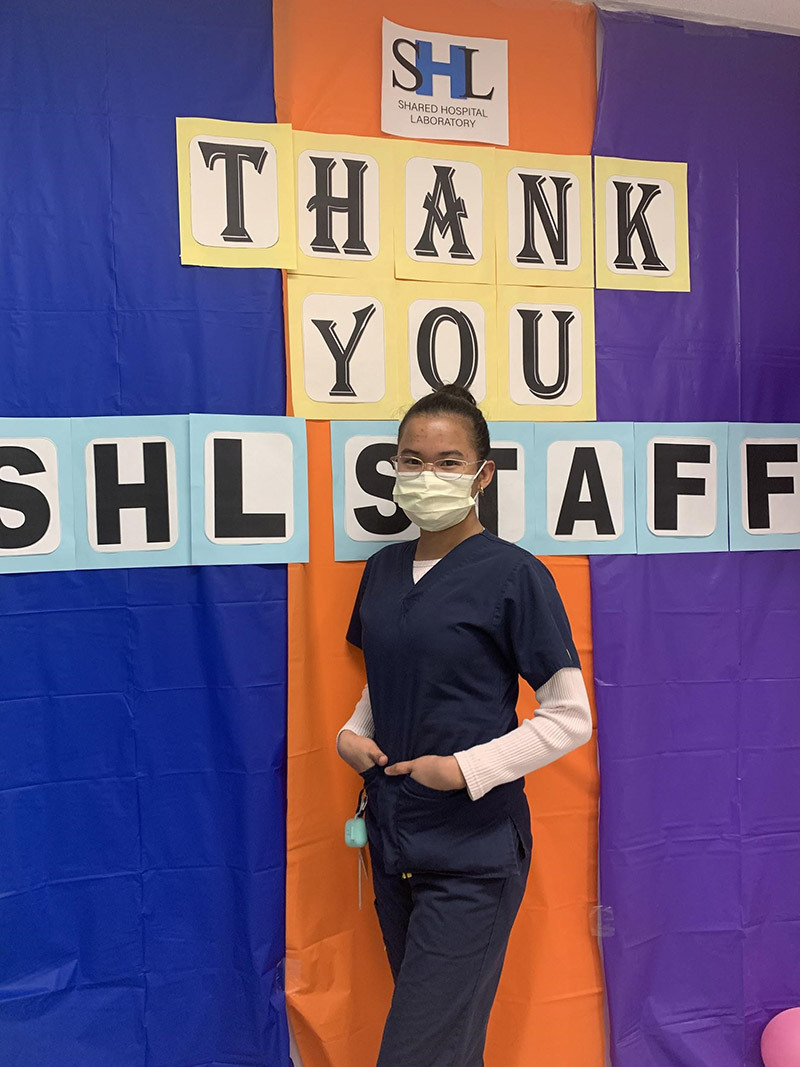 Krizza Jalandra is a molecular lab employee at the Shared Hospital Lab (SHL) in the Scarborough Health Network. During a typical day on the job, she sorts specimens and matches them with their labels, does aliquoting, and prepares batches of swabs, among other tasks. Krizza has also been doing front line phlebotomies during the ongoing COVID-19 pandemic.
Here's what a day in the life of an MLAT looks like, and how ACA helped get Krizza to where she is today.
What a Day in Krizza's Life Is Like as an MLAT
As part of the Scarborough Health Network's Microbiology Department, Krizza works in a molecular laboratory. Here, she performs tasks such as sorting and matching COVID-19 specimens with their labels. "I also do aliquoting," she adds, elaborating that this involves the "transfer of a small amount of the specimen to a smaller tube." She is also training with automated machines for the purpose of processing and analyzing specimens, with assistance from a Medical Technologist. Beyond sorting specimens from different hospitals and aliquoting, Krizza's most common tasks include data encoding and preparing batches of swabs. "Completing repetitive tasks accurately and maintaining accuracy even in stressful situations is routine work for me," she says.
She describes the work done by medical laboratory assistants and technicians at the SHN as "critical," in that each person in those roles must follow SOPs (Standard Operating Procedures), and ensure the process is carried out successfully in order to get the most precise and accurate results. What does Krizza love most about her career? "I love how I make a difference silently," she says, highlighting just how essential MLATs are to healthcare in Canada—especially now during this time of crisis. Krizza also loves the camaraderie and teamwork that she experiences. "I love how everyone gathers together when it becomes hectic, to make sure that we deliver the best healthcare quality."  
How the COVID-19 Pandemic Has Challenged Her
Krizza admits that being an MLAT has been "very challenging" during the pandemic. "Everyone is busy and doing a lot of overtime," she says, "but despite all of that, the workload is well handled by amazing people and I still go to work with a smile and doing the best that I can."  
During the pandemic, Krizza has also been doing front line phlebotomies, which she finds to be both exciting and challenging. Her love of phlebotomy makes this an exciting task for her, as she works hard to collect blood samples quickly while avoiding patient discomfort. "I also have to take extra measures to avoid spreading of diseases and to reduce harm to myself, to the patient and to the community. Part of those measures is to always wear complete PPE all the time, to prevent further exposure and contamination."
With Canada now in the thick of a second wave of infections, Krizza sees many opportunities for those who want to make a difference as an MLAT. "Being an MLAT is a career that requires concentration and discipline," she says. "Given that Canada is now in the second wave, this will have a big impact on my profession as the government and employers require more MLA/Ts to help with doing many numbers of tests."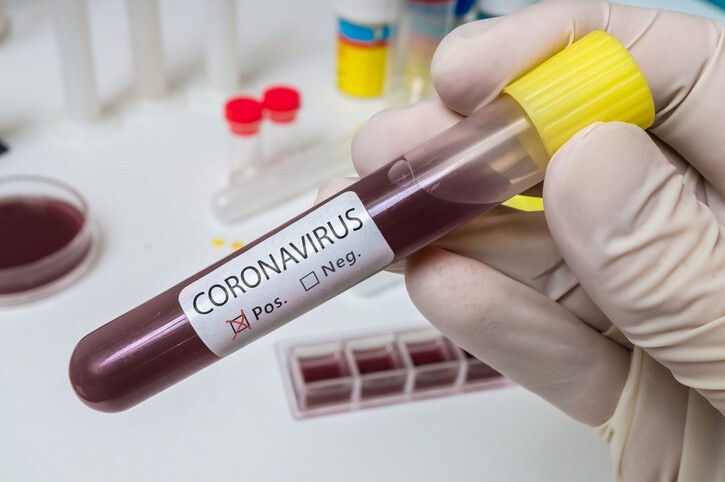 Krizza has been sorting and matching COVID-19 specimens with labels during the pandemic
How Our Career College Got Her to Where She Is Now
Despite the difficulties she's faced on the job during the pandemic, Krizza has been rising to the challenge, saying that "this is also the best time wherein I can utilize my knowledge and skills that I acquired in ACA." 
During her time at our career college, Krizza engaged in hands-on training that she says helped familiarize her with various kinds of laboratory setups, as well as teach her about interacting with patients. Krizza says that "With the guidance of ACA employees, esp. Christine, Dalia, and Roxanne, I am able to work with confidence, dignity, and pride."  
In particular, Krizza's 240-hour co-op placement helped to prepare her for real situations in her profession, as she was able to meet and connect with real-world patients. During Krizza's co-op, though, ACA was approached by the Scarborough Health Network, which needed to fill several MLAT positions quickly. Krizza, as an excellent student in the medical laboratory technician course with a wonderful work ethic, was hired. She was able to complete her co-op placement with them, and then continue working in her new role.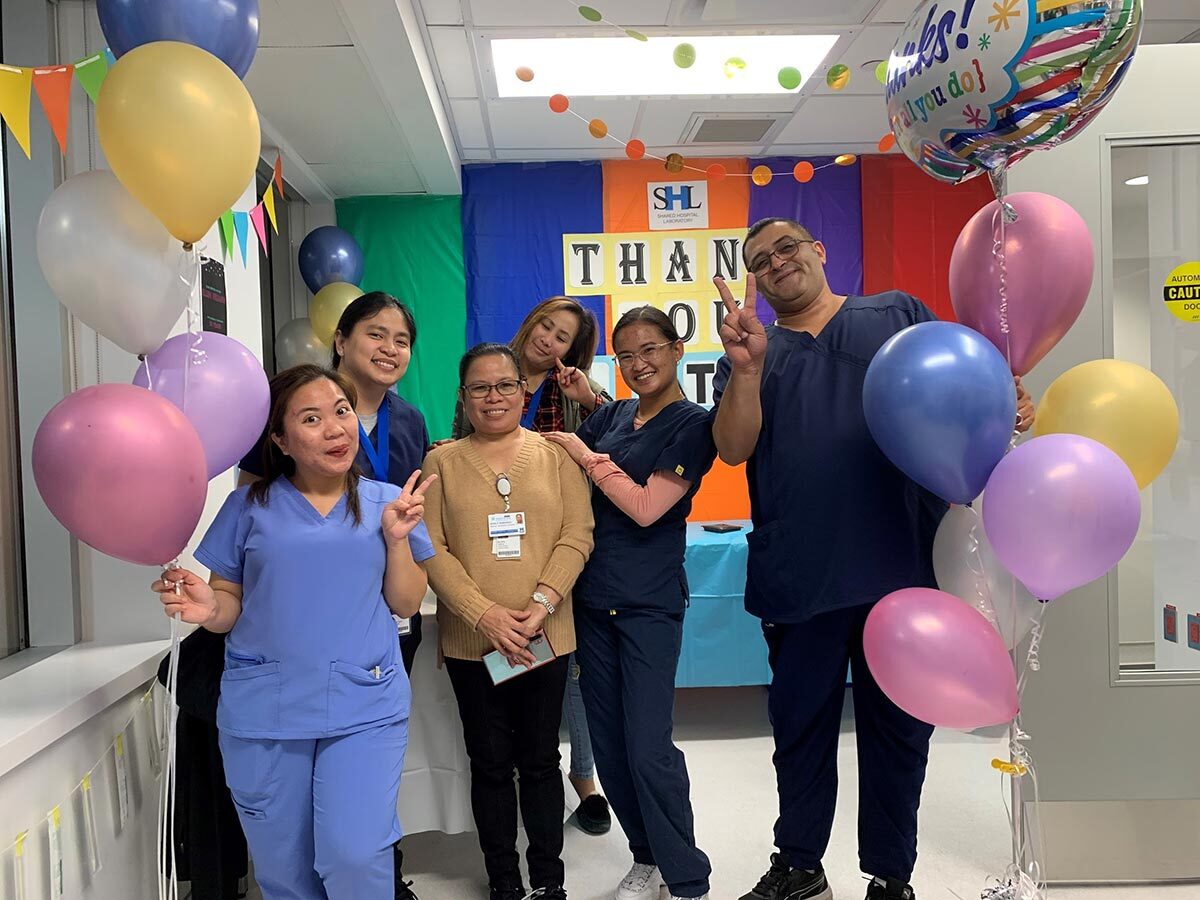 Krizza (second from right) is grateful to ACA for her training and co-op placement
"I am elated and at the same time extremely grateful for the opportunity that the school and SHN has given me," she says. "It felt great because it is a rare opportunity for a student to complete the placement while also working for the said institution at the same time. It helped me to become more focused and dedicated to this profession."
However, her favorite aspect of studying at ACA was how people there treated each other. "People at ACA are all nice and friendly yet professional," she says. "Having an environment where I can be comfortable is the most important as it really affects my learning."
 
Contact Algonquin Careers Academy today!