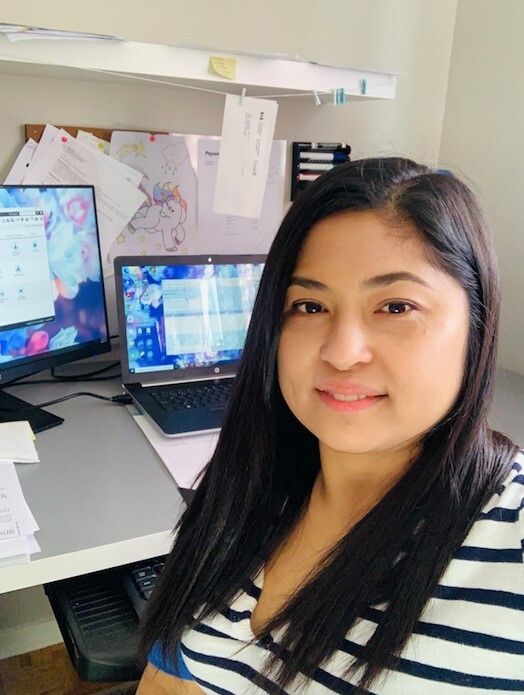 Working in business was possibly always in the cards for Jenny Lyn Enriquez, who took a course in the subject in her native Philippines before immigrating to Canada some years ago to work as a nanny. Her interest in business never wavered and helped her to launch her own home daycare five years later. She ran her own business successfully for six years, helping her stay home to raise her three small children. When some friends told her about the great experience they had taking courses at Algonquin Careers Academy (ACA), Jenny Lyn jumped at the opportunity to enroll in the school's Business Program
After graduating in March, 2020, Jenny Lyn decided it was time to take her career to the next level, and closed her daycare business. She quickly found a job in June of the same year as a Business Manager at Sun Dog Business, a small bookkeeping firm, where she has been thriving since. 
We recently spoke to Jenny Lyn about the challenges and rewards she's experienced in the role so far.
What a Typical Day as a Business Manager Looks Like
As the Business Manager of Sun Dog Business, Jenny Lyn works as part of a team of just two, made up of herself and her boss – also an ACA graduate. In providing bookkeeping and financial services to a variety of clients at Sun Dog, Jenny Lyn's personal daily tasks include bookkeeping, entries, financial analysis, bank reconciliation, and several other general accounting responsibilities. Jenny Lyn's daily agenda is organized by sitting down at the start of each work day with her boss to discuss client accounts.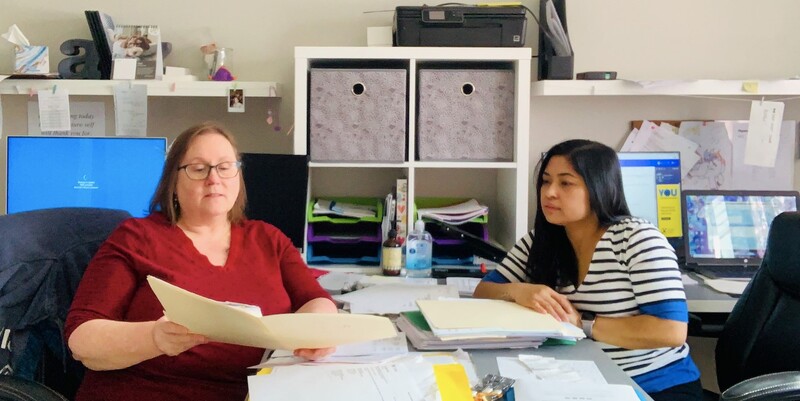 Each morning, Jenny Lyn and her boss meet to discuss the tasks of the day
Jenny Lyn describes that morning meeting as one of the joys of her job, saying, "it's so nice that it's the two of us, that I have a direct contact with the owner, and we discuss certain clients and kind of brainstorm what advice we can give to the clients."
Additional Rewards of the Job
Another rewarding aspect Jenny Lyn reports on is the number and variety of clients she deals with on a daily basis. That includes well-known food chains, restaurant franchises, convenience stores, and IT companies. She says, "that's why I love it, because it's very broad, so I'm learning everything." Jenny Lyn also appreciates the flexibility of her job, which is important to her as a mother of three. That flexibility became especially important surrounding pandemic considerations, when work from home policies became the norm. Jenny Lyn is content working at Sun Dog Business under its current blended approach, working three days in the office and two days from home—giving her the best of both worlds. 
The Challenges of the Job
Jenny Lyn describes feeling confident with all aspects of her role, in large part due to the skills she gained at career college—but admits it was challenging at the start, mainly due to the variety of accounting software needing to be used from one client to the next. "We use a lot of different types of accounting software, like Sage, Quickbooks, Quickbooks Online, and those three are all very different in how they work," she explains, noting that on a general work day she might work for three clients, all requiring different software needs. 
Jenny Lyn describes the jump from one software to another as feeling like "changing shifts, or changing the car you use, like moving from a big car to a small car." She quickly rose to the challenge by accessing knowledge gained at ACA, and is now enjoying the invaluable experience that comes from moving swiftly between the requirements of each client.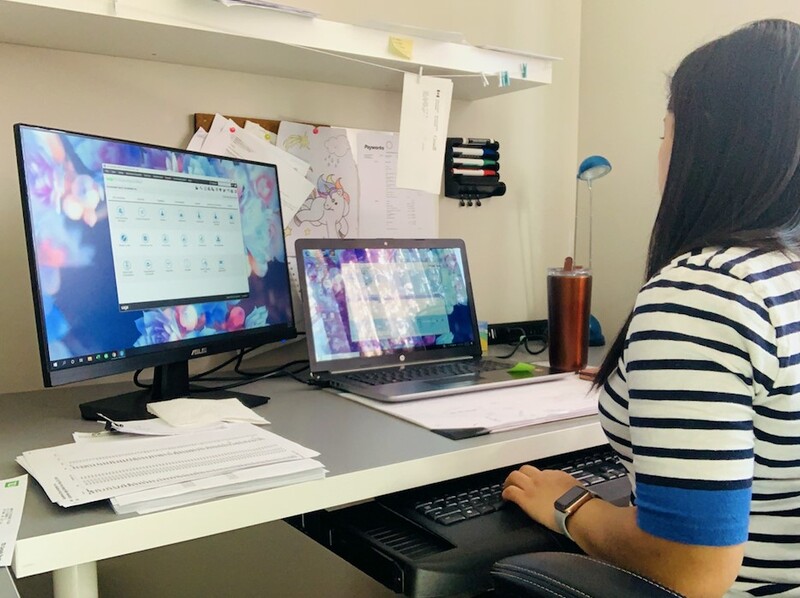 The training Jenny Lyn received at ACA helped her quickly acclimatize to her role as Business Manager
How Career College Helped Jenny Lyn Prepare for Her Role as Business Manager
Jenny Lyn directly attributes the speed at which she settled into her new role and the comfort levels with the various software types of the job to the experience she gained from her business management training at ACA. She explains, "we had courses on Quickbooks and Sage, and that really prepared me a lot because those two are the most used software [types]." 
Jenny Lyn says the accounting principles learned in the program were also very helpful in preparing her to handle on-the-job tasks related to credit, how taxes work, and much more. She's also quick to point out her appreciation for the level of personalized support she received from her instructors at ACA – something that really helped in view of English not being her first language. As she describes, "when I'm listening, sometimes I don't understand until you really explain it to me. The ACA instructors really have the patience to sit down and explain it to you." The small class size of her ACA program helped to naturally foster an environment of greater sit-down interaction between the instructors and pupils – something Jenny Lyn doubts she would have experienced in a larger learning institution. 
The faculty and teaching staff at ACA were also notably supportive to Jenny Lyn in helping her to complete her program when she went through a particularly hard time in her personal life—with her mother suddenly passing away back home on the other side of the world. Jenny Lyn had to get back to the Philippines immediately, but finishing her course was also extremely important to her. She says, "they really understood my situation, and they made a plan, talked about how I could still complete courses." Jenny Lyn says she's grateful for the compassion they showed under the circumstances, and that they were willing to find a way for her to complete her courses at ACA so that she could realize her career dreams.
Contact ACA today to learn about our variety of career-oriented program options!