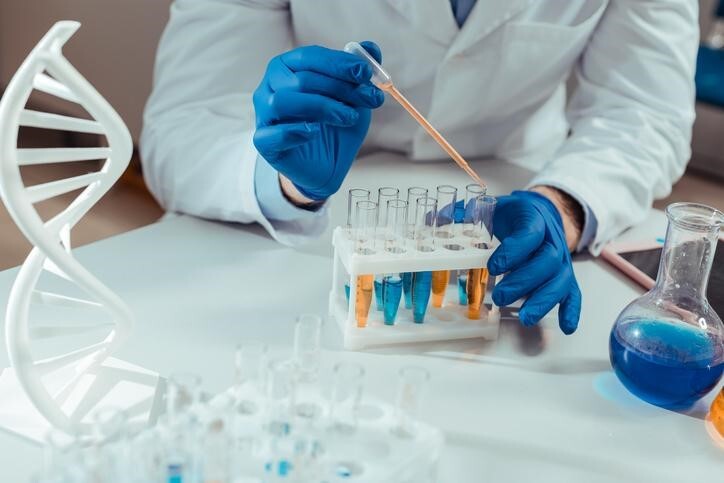 A career as a medical laboratory assistant or technician (MLA/T) is perfect for those interested in pursuing work in the medical field. With the proper training, students can learn to perform standard medical lab tests—including blood tests, immunoassays, cultures, and ECGs. 
Starting a new career can be intimidating, but choosing the right program makes a big difference. For Sue Hopkins, an ACA graduate from the Med Lab program in 2020, it started with research. "I began researching programs and colleges in all medical fields," Sue shared in her interview. "I had interviews with private and public colleges, but after meeting with Nestor from ACA and listening to him speak about the Med Lab program, I knew I had just found my new career." 
Here's a closer look at Sue's experience in the program and her journey towards a career she truly loves!
Gaining Valuable Knowledge and Skills in a Supportive Environment
Completing ACA's Med Lab program allowed Sue to gain valuable knowledge and experience that prepared her for her current position, working in the Microbiology Department at Victoria Hospital in London, Ontario. The theoretical and practical skills of the program were taught in what Sue describes as a "warm and inviting" environment, where small classroom sizes enabled a more personal experience.
Although going back to school can be challenging, the Med Lab program teachers were there to help. In addition to providing clear explanations, they "made every class enjoyable and plenty of laughs were shared," says Sue. Through taking the medical laboratory technician course, Sue was able to learn in a friendly environment with supportive classmates. She notes, "We grew close and never hesitated to help each other out. All faculty members were amazing, always there to answer questions and always had smiles on their faces."

Sue's optimism, work ethic, and natural affinity for team work were noticed by ACA's teachers and members of faculty. Here's what the school had to say about her: "Sue is a single Mum of two teens and wanted a new career that she was proud of, and she wanted to start it yesterday! So our program was perfect for her. She was a good student, with a positive, hard-working attitude, who often helped younger students with academics."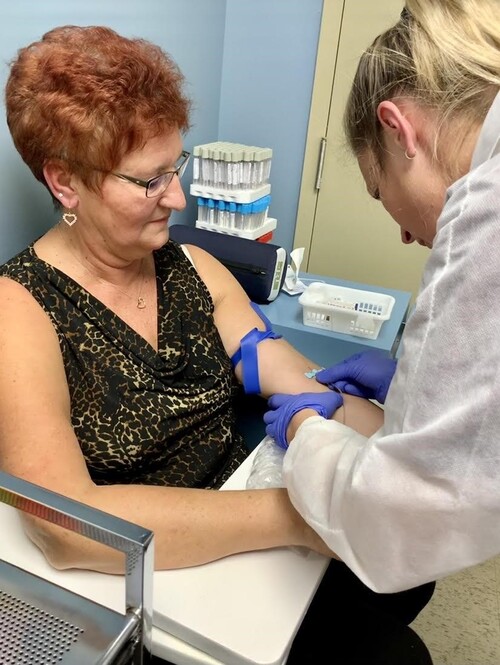 The school's blood draw day gave Sue the chance to practice key tasks on her family, developing skills that she uses in her current career
Working in the Field after Taking a Medical Laboratory Technician Course
The Med Lab program is practical in nature, designed to give students real-world experience to prepare them for a future career in the field. "My favourite part of the program would be the Phlebotomy course. Learning how to draw blood and practicing on each other was amazing. I never thought I would be doing any part of this in my life, and now I am," Sue shares.
Through a clinical placement, students are able to gain unique experiences and develop the necessary skills to excel in their careers. "The whole program plays into my every day on the job, keeping up on the terminology, multiple tests being ordered, and multiple departments which all see specimens," notes Sue.
Those aspects of the program gave Sue valuable insight into the role of a medical laboratory assistant or technician—allowing her to see the importance of compassion and communication with patients firsthand.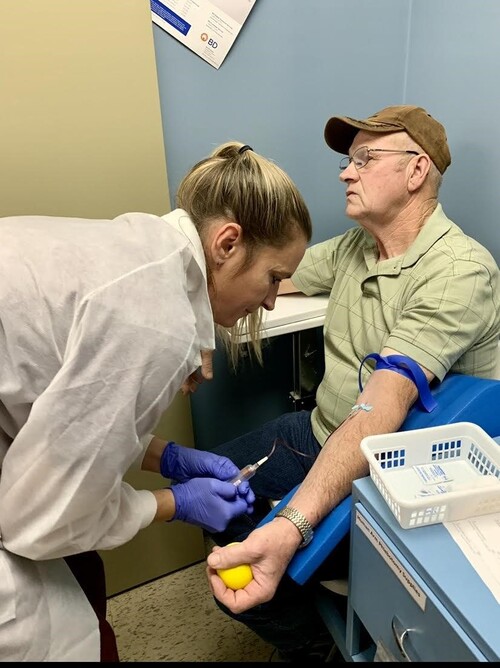 The Phlebotomy course helped Sue practice drawing blood, applying what she learned on her parents during the school's family phlebotomy day
Top Tips from a Medical Lab Assistant and Technician Diploma Graduate
Students attending a career college are on track towards gainful employment, as is the case with those completing their MLA/T studies. "The medical field is always going to be in need of technicians," says Sue. "I take great pride in the satisfaction of my diploma and working at Victoria Hospital. Everyday there is something new, and I am always learning!"
It can be tough to balance school work with personal life and responsibilities. In order to better adapt to her new schedule, Sue prioritized her tasks. "I took the important parts of the two and made sure I did those first." She says, adding, "If anything, don't be afraid to ask for help if you have the means, and remember don't sweat the small stuff." 
To better excel in their studies, Sue recommends students pay close attention in class, as teachers discuss key components while also focusing on aspects they feel they need more help with. She also suggests taking breaks and asking questions, coming forward if they feel overwhelmed or confused about anything.
When looking back, Sue reflects on a positive experience. As she puts it, "This was an incredible experience for myself and a goal I had set for myself! I can honestly say...I have found a career that I truly love and enjoy going to work every shift!"
Contact Algonquin Careers Academy for more information!