Lindsey Jansen's job is a fast-paced and challenging one. As a phlebotomist, Lindsey draws samples of blood to be sent to a lab for testing. She also performs tasks like stocking carts with medical equipment, checking for last-minute orders, and sending tubes for testing. Having graduated from the Medical Laboratory Assistant/Technician diploma program at Algonquin Careers Academy (ACA), she now works at the Ottawa Civic Hospital.
 
Here's what a typical day is like for Lindsey, and how her experiences studying at ACA helped shape her career.
What a Day in the Life of a Phlebotomist Consists of After Career College
A day in Lindsey's life working in phlebotomy at the Civic Campus of the Ottawa Hospital involves lots of early mornings, often starting at 5 a.m. First, Lindsey will go to the lab to check in and get paperwork, followed by labels and stocking a cart full of equipment—needles, tourniquets, gloves, masks, tubes, and so on. She takes care of all of this before going to her assignment, as staff are given varying assignments for different areas of the hospital.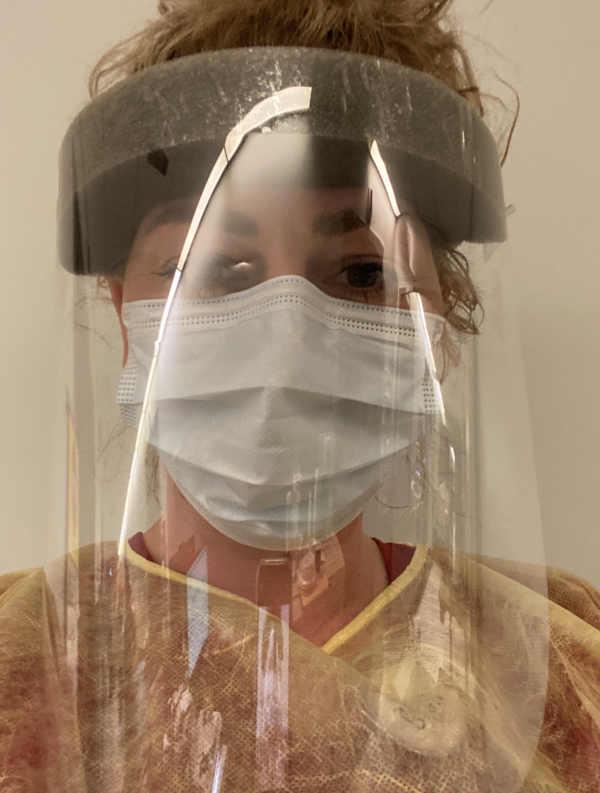 Lindsey Jansen's job involves wearing personal protective equipment (PPE) when required
"If we're in acute care, you go in there and then you check with their paperwork for any add-ons that they do [for last-minute equipment orders] after it's been implemented into the system," she says. "If you don't check for that, you can miss a test. When there's a patient that has a vein the size of a hair, you really want to just poke them once, rather than having to go back later on."
The Advantages and Challenges of Her Daily Responsibilities
Lindsey also emphasizes the importance of double-checking everything—even the patient you're assigned. "When you walk into a room, and bed one is on the left side, you might go into a different area and bed one is on the right side for that other room. You really, really, really have to watch where you're going," she adds. "I've had it happen where I've asked a patient, 'Is your name so-and-so?', and they've said 'Yes.' Then I look at the bracelet, and they're not that person. They're so out of it, they're tired, dehydrated—they're just not well." By being vigilant and checking all details, Lindsey makes sure to avoid any potential mistakes.
 
Although there are other challenges to the job, such as seeing patients in tears, Lindsey says there are big upsides, too. "It can be really rewarding when you see a patient and, for whatever reason, they just feel like they can cry on your shoulder, or they can express all their feelings," she says, adding that "Seeing them get better over time is really, really rewarding."
How the COVID-19 Pandemic Changed Her Day-to-Day Life at Work
Any student in a medical laboratory technician course can acknowledge the sheer impact of the COVID-19 pandemic on healthcare. While the virus has largely been slowing in Canada, and she says that she and her colleagues are feeling less anxious, Lindsey notes that things were stressful when the novel coronavirus first surfaced. A single mother, Lindsey sent her five-year-old daughter away for two months, out of fear that she would bring the illness home with her after work. In fact, one of her colleagues contracted the virus and was hospitalized for two weeks. For all those who helped fight the pandemic, the past few months have been a stressful and difficult time.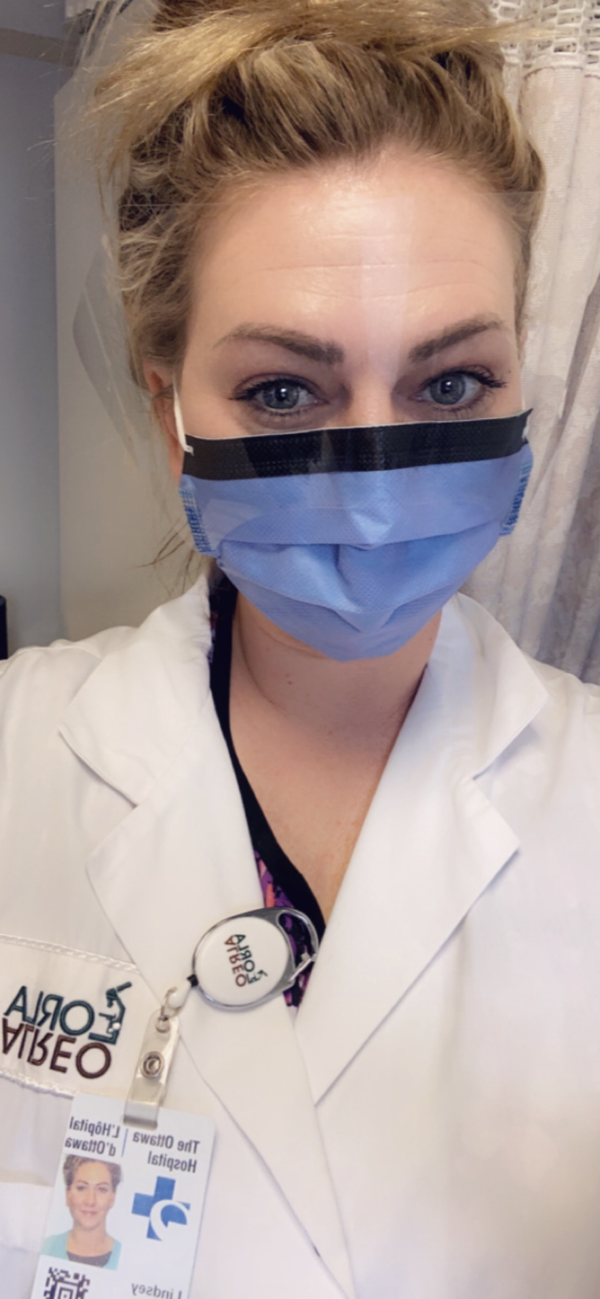 Lindsey was hard at work during the height of COVID-19
What the MLAT Program at Algonquin Careers Academy Taught Her
Having taken the Medical Laboratory Assistant/Technician program at ACA, Lindsey credits the phlebotomy course (MLAT170) at the career college for helping to prepare her for her current career. She appreciates how the program showed her what to expect when working with extremely ill people, and also appreciates the role her teachers played. "They're extremely helpful and they want to see you succeed," she says. "If you're someone who's struggling with personal matters… they're there to make it work. If you show them that you're working at it, they'll help you succeed."
Although she and her classmates practiced bloodwork on each other while healthy and found it easy, she admits that you "really get to see what an ill patient's veins can look like" when you're on the job. However, she says her profession is great for anyone who likes a challenge. "The feeling you get when a patient looks at you and says, 'Oh my God, you should be teaching! You're amazing! I didn't even feel that,' it's really rewarding."
Do you want to take a medical laboratory assistant course?

Contact Algonquin Careers Academy today!